---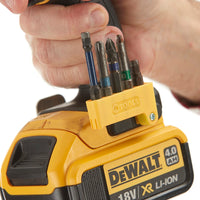 in stock - ORDER NOW
48 Tools Magnetic Bit Holder to suit Dewalt Tools.
Compatible with any drill, driver, impact wrench, hammer drill, or brand that you see in the dropdown menu. Our magnetic bit holder should fit any drill that has a screw hole.
Key features
Deeper pockets for longer drill attachments

Strong rare earth magnet

Reversible

Full-length magnetic strip for holding extra screws and drill bits

Hexagonal holes to secure your drill attachments better

The ability to magnetize nonmagnetic drill bits

Screw included to affix to your drill
By using a bit holder from 48 Tools, you can keep up to five driver bits organized and out of sight, making your workspace more orderly and eliminating the need to waste time searching for the correct drill bit. With a full-length magnet across the bottom, you can attach additional screws or drill bits to the bottom of our Bit holders to help keep your hands free. This also gives you the ability to magnetize nonmagnetic drill bits. With Hexagonal shaped pockets to match the shape of standard attachments, your bits can't spin or move around helping keep them from getting lost or falling out when they are bumped or your drill is dropped. We have made the pockets deeper than standard bit holders to help hold those longer drill attachments that are now standard in everyone's tool kit.
a 48Tools product from Australia